A few days ago, House Bill No. 5636 or the Tax Reform for Acceleration and Inclusion (TRAIN) was approved by the House of Representatives in the Philippines.
While the Philippine government's propaganda to disseminate information about the tax reform is focused on the lowered personal income tax rate resulting from the bracketing changes (see image below), these changes affect more than your personal income tax.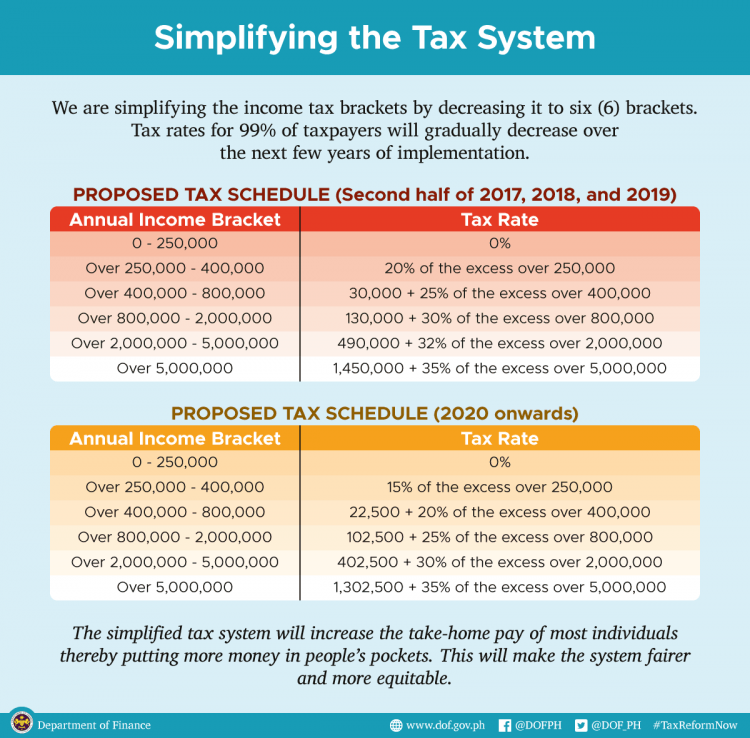 For businesses, the effect of the changes in the personal income tax rate is subtle. The government released a lot of articles and materials to propagate the impact of the tax changes on personal income tax, but this article will focus on the impact on businesses.
Transactional taxes
A lot of startup founders still hire freelancers in order to sustain their bootstrapping business, and the tax reform also proposes changes in this area. I can't say for sure if it's for the better or worse since it depends on your business.
Self-employed and freelance professionals are subject to the 3 percent other percentage tax (OPT) in lieu of VAT (when gross sales or gross receipts do not exceed the VAT threshold of US$38,734).
Under the proposed tax changes, self-employed and/or freelancers are no longer subject to the 3 percent OPT. Here's a quick summary of the changes:
VAT threshold will be increased from US$38,734 to US$100,897. This could be a positive change that would allow improved wiggle room for startups, self-employed, and freelancers to pay 3 percent OPT instead of being subjected to a heavy burden of 12 percent VAT.
Self-employed and/or freelancers whose gross sales or receipts do not exceed the VAT threshold will be subjected to 8 percent income tax on gross sales or receipts in excess of US$5,044.
Self-employed and/or freelancers whose gross sales or receipts exceed the VAT threshold will be taxed in the same manner as corporations.
Now, is this a good change? If your income is below US$5,044 per year, this is definitely a good change since you don't have to pay anything. If you earn below US$8,071 a year, you are still better off with the tax reform. But earn more than that and you will start feeling the pain of the 5 percent hike in tax rate.
Now, if you're currently earning more than US$38,734, you benefit from the tax savings of 7 percent (12 percent VAT less 5 percent new tax rate). But it gets pretty complicated with an income of more than US$100,897. It's a balance between subjecting your gross income to 12 percent VAT (under the current tax code) and net income to 30 percent income tax (under the tax reform).
Conclusion
TRAIN is still subject to Senate approval, so these provisions might change. But understanding early on how these changes could impact your startup in the Philippines and your personal income is crucial in proper financial planning.
For companies who are previously enjoying zero-rated VAT or VAT exemption, please have a read of the publication or drop an email to your accountant or tax advisor.  Your preferential transactional tax could be taken away from you when this reform is implemented.
MANILA, Philippines – A video of a visionary commercial business district (CBD) located in the heart of Manila is making the rounds online. Dubbed as a city within a city, the "New Manila Bay City of Pearl" will revolutionize self-sustaining smart community.
PHOTO CREDIT: SkyScraper City
The "The City of Pearl" was conceptualized by UAA Kinming Group Development Corporation together with the Philippine Reclamation Authority (PRA) a few years ago. The said project allegedly got its blessings from President Rodrigo Duterte and Chinese President Xi Jinping during the former's visit to Beijing last year.
Manila.gov.ph website also reported that former president and current Manila City Mayor Joseph Estrada has given his approval to this project.
"This important event will usher in a new era of prosperity for the great city of Manila. It will bring our city a step closer to recapturing its old glory, and being recognized once again as the Pearl of the Orient," Estrada said during the signing of a memorandum of understanding (MoU) last February.
"New Manila Bay City of Pearl is a visionary new integrated CBD in the heart of Manila. A city within a city, a revolutionary self-sustaining smart community beyond any international benchmark today," said Nicholas Ho, deputy managing director of Ho & Partners Architects.
The report revealed that the project will take up to 407 hectares of reclaimed land which will be connected directly to Roxas Boulevard. The city is described to be connected via a main boulevard with a loop road network that will utilize advanced driverless railway system circulating throughout the whole district.
The first of its kind development will feature residential, commercial, convention, education, healthcare, tourism and sports hubs suitable for an international community. A central park with a 3-km themed riverside shopping street and an 18-hole golf course will be featured in the inner ring of the city while a 10-km water promenade will surround the entire island.
The project will also showcase iconic skyscrapers, low to high rise residential units, large scale 5-star health care, international education institutions as well as retail properties. An all-weather multi-function sports stadium called Pacman Stadium named after Filipino world boxing champion Manny Pacquiao will also be built in the City of Pearl.
Travelling in the City of Pearl will depend less on car usage as water taxis and an elevated rail system will provide multi-transportation channels reducing traffic congestions. Moreover, City of Pearl guarantees 20 minutes targeted travel time.
If the project pushes through, City of Pearl will be the first smart city in Southeast Asiawhich will use renewable energy like solar and tidal power to ensure effective energy production and consumption.
Ho revealed that the development, which is expected to generate 50,000 jobs for Filipinos will probably take 20 years. It is estimated that the reclamation works, which will reportedly begin in August this year, will take about four years. Meanwhile, residential towers are targeted to be built in the next seven years.
–Mini, The Summit Express
New Manila Bay on going -